I was finally able to give
muridae and her husband their presents for the wee one, due to make his appearance anytime now. it was so cute to watch them get all giddy over the little toys and outfits I had bought, and even cuter to watch laurie playing with everything else. I'm in love with their animals, they are SO cute and have such individual personalities =D

speaking of, I've had amethyst sitting on me all night, and elmo is currently in my face all lovey-dovey LOOOOOVE MEEEEE! because she just got off of a five hour heated blanket nap.
which sort of looks like this when she's really into it: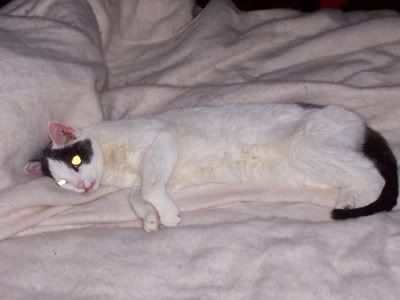 I FEEL LIKE DEATH
can you guys PLEASE suggest some over the counter cold meds that do something besides nyquil? while it does help and it gives me the best fucked up dreams I've had in forever, I don't know if it's particulary working for what's wrong with me. and what is wrong with me? I DON'T KNOW! it's just like, my nose that's bugging me, headaches and a general lack of energy. I just don't feel well and I haven't for the last couple of weeks. I still have another month before I'm eligable for target's health insurance and even then what do I do if they deny me as well? so please, suggestions!